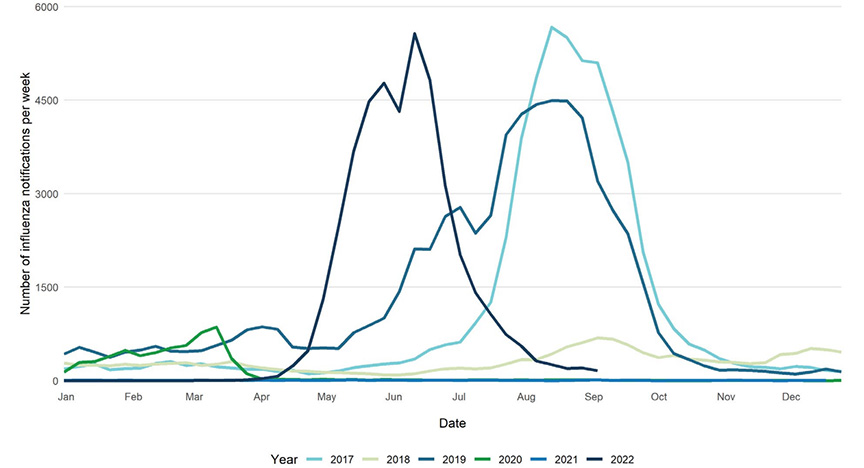 Each year, we face the possibility of a serious flu season. For some people, the flu can cause serious illness, and it can also be deadly. Flu strains are continually changing, so it's important to get vaccinated against the flu each year to protect yourself and others.
Some background on the flu
The flu (or influenza) is a group of respiratory viruses. Typical symptoms include fever, nasal congestion, headaches, coughs, muscle aches and pains, a sore throat and fatigue.
The flu is highly contagious; usually spreading when an infected person coughs or sneezes. Droplets containing the influenza virus land on surfaces, such as phones and doorknobs, and can then pass from hands to the nose, mouth or eyes. If you have the flu, you can be infectious from 24 hours before you have symptoms until a week afterwards.
The flu can be serious. Complications can even be deadly: causing an estimated 3,500 deaths in Australia each year. While most of us get over the flu after seven days or so, it can sometimes lead to other serious health problems, like bronchitis or pneumonia, or make any existing health problems worse.
Different strains dominate each year. Influenza evolves and mutates, creating new strains, which people may not have immunity against. Different strains can be more severe for certain age groups.
The flu versus COVID-19
Both the flu and the virus that causes COVID-19 can have similar symptoms. You can find out more about the symptoms of COVID-19 compared with flu, common cold and allergies here. If you have any symptoms, always stay at home until you are well.
Why vaccination is the best protection against flu
Virtually everyone over six months of age should get a flu vaccine every year (unless there are specific medical reasons why they can't). This will help prevent you from getting ill with influenza. Getting the vaccine from April allows your immune system to develop protection well ahead of peak flu season, which is usually in August.
Vaccination also limits the spread of the virus to others in the community, particularly those most vulnerable to infection.
Even if you've already had the flu vaccine in previous years, you should get it each year. The vaccine is updated annually to boost immunity against the most common circulating strains.
In Australia, the flu vaccine is free for all children aged six months to under five years and for those aged 65 years and over, pregnant women, Aboriginal and Torres Strait Islander peoples, and individuals with various medical conditions that increase their risk of complications. This includes severe asthma, diabetes, lung or heart disease and low immunity.
How is the flu vaccine made?
In February and September each year, the World Health Organization (WHO) holds a conference with leading experts and influenza centres worldwide to make recommendations about the composition of the next season's flu vaccine. After the September conference, the Australian Influenza Vaccine Committee meet with the Therapeutic Goods Administration to confirm which strains will be included in the Australian flu vaccine. The vaccine funded for the National Immunisation Program contains the two most common strains of both Influenza A and Influenza B.
The vaccines then need to be made. This process requires large amounts of each virus strain needing to be created to make enough vaccine doses.
Once that is done, it's time to book your shot, and roll up your sleeve.